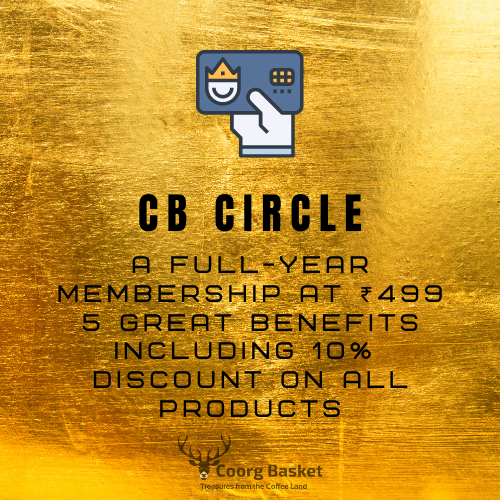 CB Club
CB Inner Circle
Exclusive Membership for 3 Months or 10 Shipments (Whichever is earlier)
The reach: This membership is applicable to all those residing within Bengaluru.
Shipping: A member gets free shipping for up to 10 orders or 3 months (whichever is earlier) irrespective of the cart value.
Delivery: Delivery within 48 hours from the time of placing the order(s). [applicable between Monday and Saturday].
Discounts: Up to 10% discount on select products listed on the store including seasonal and occasion specific products.
Early Access: CB Inner Circle members will receive prior notifications when seasonal products or festive specials are launched or restocked.
Exclusive gift hampers – Two guaranteed gift hampers in a year from Coorg Basket.
Availability: In stock